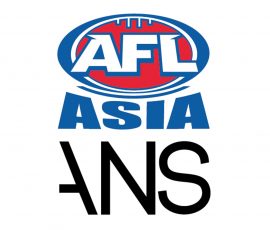 AFL Asia is proud and excited to announce it's innovative partnership with new Foundation Sponsor, Australian Nutrition and Sport, ANS.
ANS has gone above and beyond any previous AFL Asia partnership, which encapsulates an AFL Asia-wide sponsorship, including all international AFL Asia Mens and Womens Full Member teams. As part of the historical agreement, teams will be wearing the newly developed Co-located AFL Asia/ANS logo on their playing guernseys, club apparel and websites from the 2018 season onwards.
The contract has been established with a projected timeframe of up to 10 years and is aimed at cementing and consolidating future opportunities for the growth of Aussie Rules Football in Asia.
The Bali Geckos thanks ANS for their Sponsorship.